an ode to Pat
Pat, if by some strange twist of fate you actually wonder on to my site, and are reading this now, I just wanna say: you are the best actress there is. Your voice is amazing, and so are your legs for that matter.You inspire me to keep working and to reach my goal to be an actress, so even though you will most likely never read this, and you have no idea who the hell I am, thank you, just for being you.



A BIOGRAPHY (WOO HOO)Patricia Quinn was born on May 28th, 1944, in Belfast, Ireland.

At school she excelled in gymnastics and won awards for for being an excellent gymnast.

She moved to London to attend Drama school in the very early 60's

She met her first husband, Don Hawkins, an actor and director, in 1963, at the age of 19. The later went on to marry and produce one child, their son Quinn in 1971.

Their relationship was one that lasted two decades, until Patricia left Don for Robert Stevens.

If rumours are anything to go by, Patricia was a 'serial cheater' during her first marriage, conducting affairs, including one confirmed affair with Meatloaf during the making of Rocky Horror!

Patricia is very, very talented although she had only five lines in Rocky Horror.
1. Your lucky, he's lucky, I'm lucky, we're all lucky
2. Come along the master doesnt like to be kept waiting.....
3. I grow weary of this world....
4. But I thought you liked them they liked you
5. Master dinner is prepared.
(she then had her wonderful ending speach)

Patricia went on to appear in Shock Treatment with her closest friend and Rocky costar, Richard O'Brien.

Richard and Patricia met in late 1972.

Patricia's first impressions of Richard was "Ive met my people"

They have been very close friends for 29 years, and they still share the same raucous personality. Richard introduced Patricia to pot while filming Rocky Horror....

They are very much like brother and sister, and get on with each other's families, Richard's children, Linus, 28, Joshua, 16 and Amelia, 10, love Pat like an Aunt and Pat's son, Quinn, now 29, loves Richard like his uncle.

Patricia is also a very dignified widow, and although losing her husband in November 1995, affected her deeply, she smiled through it all and often laughs it off, knowing her hubbie wouldnt want her to be down.

anything else people?? e-mail me!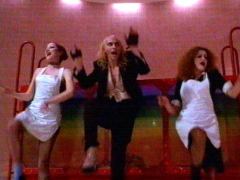 Reasons to love Pat Quinn
1. She is a babe
2. She can act, sing, and dance
3. She has a cool voice
4. She stands up for what she believes in
5. She don't take crap from nobody
6. She is smart
7. She is funny
8. She is a good mother
9. Have you seen those legs?!?
10. She is over 50 and still hot
11. If you don't I will hate you
12. She can act on stage and screen (big difference between the 2)
13. Her lips are the symbol for RH
14. Those eyes are so cool
15. Great sense of style
16. She has class
17. She is nice to her fans
18. She is Iriah
19. She is very blunt and speaks her mind.
20. The body, need I say more?

(more reasons to come soon, send me yours why don't ya!)